KBS2 releases its latest pre-production drama Are You Human Too? with the story of human kind and Artificial Intelligence.
Oh Ro Ra (Kim Sung Ryung) is a brainy scientist who has the intelligence and fame from creating android robots. Her husband committed suicide and her one and only son Nam Shin (Seo Kang Joon) has been abducted by his wealthy grandfather since small due to inheritance to the global PK Group. For years Oh Ro Ra lived in loneliness creating Nam Shin 1 and Nam Shin II robots resembling her kid-teenage son. She missed Shin terribly and after many years she developed Nam Shin III who is her current adult son and heir to the
conglomerate company.
The real Nam Shin pretends to be a jerk and arrogant in every way. He doesn't talk to Grandpa Nam (Park Yeong Gyu) and annoys his aunt while disrespecting Director Seo Young Gil (Yu Oh Seong) who is eyeing his position in the co. His only close ally and friend is Secretary Ji Young Hoon (Lee Jun Hyuk) who often helps him and bears all the insults from the top management.
Shin leaves to Czech Republic in search of his mother. However Seo sends some men to finish off Shin at the scene. However real Shin meets up with Shin III at the street. After a mishap, human Shin falls into coma while Ro Ra scatters around trying to save her son. Ro Ra instructs her robot son to return to Seoul to protect Shin's position in PK Group while real Shin recuperates. Young Hoon trains robot Shin to be the arrogant human Shin, face recognition and dissed those whom he was instructed to. Bodyguard Kang So Bong (Gong Seung Yeon) is money faced so she pretended to act along with real Shin only to be discovered snapping illegal photos and selling them to press. She was slapped in public and fired only to later realise that it was trap set by Shin for the public to see.
Robot Shin returns to Korea with Young Hoon, played along well as real Shin as a Vice President of PK Group, doing presentations and even saving So Bong from various incidents. She is flustered to find out the real heir is in coma while Ro Ra begged her not to inform Seo about this matter otherwise Shin's position will be coveted. So Bong realises Shin III is doing what he is told as an AI robot and protecting those he loved.
Robot Shin somehow has to fend off Ye Na- his current fiancee and cunning father Seo. Grandpa Nam's health is slowly deteriorating due to slight Alzheimer. Robot Shin still requires So Bong's protection from the baddies though he can see many things that humans can't do so.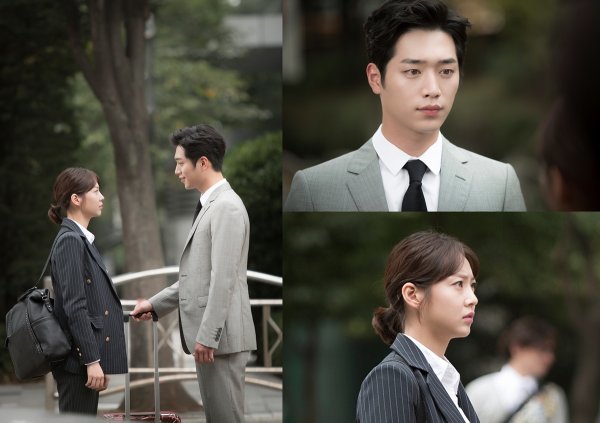 A very interesting drama with how Shin III will overcome all difficulties, finding his 'love' (though he's a robot) and protecting those he cherishes dearly.
I am liking this drama as Shin III is lovable and kind to start with. We know that real Shin is also a nice guy but been raised in a terrible environment without parents' love.
So Bong is proven to be a super pest at the start but she will slowly change her attitude to protect Shin III from harm.