Year 1987 in the month of June, - the film entitled '1987' (directed by Jang Jun Hwan) depicting the real life story of uprising broke the record of audience exceeding 7 million within 33 days.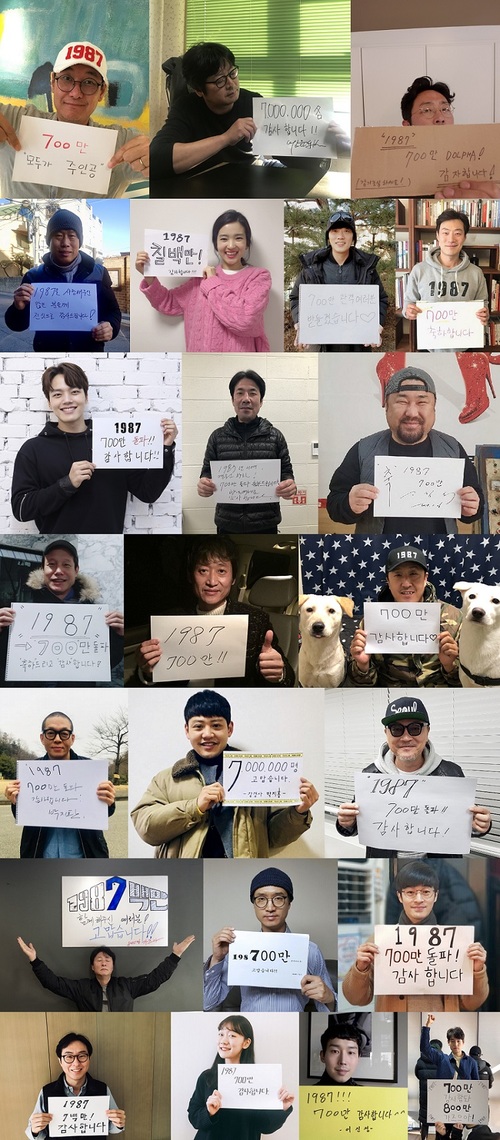 According to CJ Entertainment- movie distributor on the 28th January- '1987' surpassed 7 million viewers at 2:35 pm on the basis of the Integrated Screening Commission of the Korea Film Council. '1987' is a work that depicts the uprising in June 1987. When
Park Jong Cheol
, a college student was tortured during an investigation at Namyong-dong where the government attempted to conceal the incident and described the story as it turned out to be true.
Director Jang who has directed Save the Green Planet (2003), Hwayi: The Monster Boy (2013) have once again scouted A-list actors in this movie 1987. Actors Kim Yoon Suk, Ha Jung Woo, Yu Hae Jin, Kim Tae Ri, Park Hwi Soon, Lee Hee Jun and special appearance by Yeo Jin Goo, Sol Gyung Gyu, Oh Dal Su, Kang Dong Wan and Moon Soo Ri.
The film was released locally on 27th December 2017 and has been steadily driving word-of-mouth and leading the show. Together with the movie 'Along with the Gods' and 'Steel Rain', last year, it became the big three K-movies.