World renowned boy band BTS have made their mark again in one of the greatest music shows- American Music Awards (AMA) 2017 with confidence in the States.
The K-pop group was the first ever to be invited for 2017 American Music Awards held at the Microsoft Theatre in Los Angeles, California, USA. Recently their new single 'DNA' was a worldwide sensation. The title track from the album 'Love Yourself, Her' was a big hit among the local and international fans. The Microsoft Theatre was filled more of fans and performers than Korea.
US duo, 'The Chainsmokers' have collaborated with BTS in the title track 'Best of Me'.
There were lots of cheers and annoyance from the audience during the performance.
Fans were chanting away loudly and it is natural to see the overseas fans singing along with the song. Camera pans to the audience where some fans were in tears standing at the front stage.
Local celebrities were busy taking videos and snapping photos via their mobile phones with BTS appearance on stage.
On the red carpet, BTS leader RM (Rap Monstar) has mentioned that he cannot believe he's here at AMA 2017. The show will be broadcast live across the United States by the channel network ABC while the Korean group will be recognised nationwide.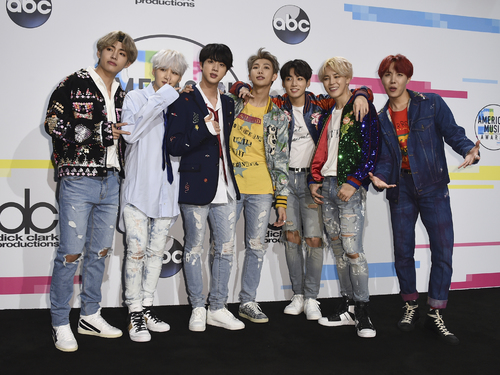 The boys have set a new record for four consecutive weeks on the album chart "Billboard 200" and the single chart "Hot 100" for the first time as a Korean group with the "Love Yourself".
From there the group became a hot topic talk while winning the Social Artist Awards at the Billboard Music Award in May.
Thanks to that, the group is able to perform at the American Music Awards which gathers the most influential and iconic artists. BTS continues with their promotion with appearance in 3 major broadcasting station- CBS Late Night Show with James Coden, NBC Ellen DeGeneres Show and ABC Jimmy Kremmel Live.