Continuation from Episode 3, the 11 members have time off to themselves after their busy come back on music shows and promotional activities with their new album. At Zero Base, they turned to small children upon seeing new toys and food vending machine. Twelve hours of freedom is given to them so they are to do whatever they want. Jin Young's attending school as usual while diligently paying attention during class. Daniel's still spending time at his hometown in Busan and Ji Sung's taking driving lessons and test.
The rest are amused with new exercising gadgets at their base. Jae Hwan pointed out that Ji Hoon has put on weight after he went on the scales. Seung Woo, Woo Jin and Sung Woon continue their eating spree of instant noodles. Ji Hoon is exercising hard but not long he gave up upon smelling the fresh cooked popcorn from the microwave. Jae Hwan resisted on any food temptation. Woo Jin found a DVD featuring Jessica Gomes Body Art doing Yoga classes. The smiles on the typical male faces...ha ha! Ji Hoon looked away as he is still a minor. Seung Woo instructs Woo Jin to enlarge to big screen and stop skipping the scenes.
Kuan Lin quickly joined them with yoga mats while calling Min Hyun as 'Minion' hyung! LOL!
Come to think of it, it's a tongue twister when calling Min Hyun's name in a fast mode.
The members attempted the Yoga positions however some failed miserably as they were not flexible as they look to be. They found soccer ball and started playing at the living room wearing a microscopic head gear making them look like fools! LOL.
The penalty came where
Dae Hwi
, Jae Hwan and Seung Woo have to grab some snacks and ice-cream for the winners. The trio planned to escape with driving away with the writer's car but their attempt failed because they were keen to see the secret passage door opens at 5.00 pm.
Sung Woon started his Zumba class on big screen encouraging Kuan Lin and Min Hyun to exercise the swag-samba way! It is comical that Kuan Lin found his old Produce 101:S2 video where he started to dance with Seon Ho (Cube Ent.,) and they started to follow the choreo.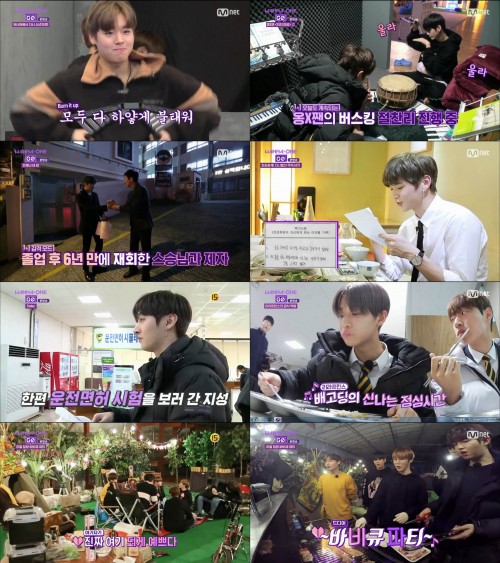 Ji Sung passed his written driving examination but he freaks out in the physical driving test. He kept crashing at the side and whenever he starts to reverse, the indicator kept beeping to him he's disqualified. When he went to sit for the real driving test, he fared well in reversing the care into the T-drive section. But as soon as he turned out from the parking spot, the tyre hit the curb and he didn't know what to do. He just drove over the curb and immediately he failed the test! I must say for a guy...Ji Sung is rather hopeless in terms of driving.
Daniel finally caught up with his home-room teacher Mr. Il-Yong who taught him and encouraged him to do B-boying when he was in high school. He gave his Teacher a neck tie and invited him for a drink. His teacher kept calling "Eui-geon ah"....(his birth name) and exclaims 'Aigoo' while admiring his student is now a handsome young man. At the restaurant, the two men kept having drinks while keeping the manners. Teacher Il-Yong brought a secret book that he has kept all these years- photos of young Daniel and the forms which he filled when he first enrolled in school. His dream involved with music, he likes dancing and he cracked upon reading further. Teacher told him the fans even visited his Alma mater! Daniel was grateful for that and he personally autographed the group's CD as a present for his teacher. It's amazing to know the young smiling kid at school who loved B-Boying has grown up so well into a fine young lad and so successful in the music industry.
Exactly at 5.00 pm, the secret room opened and they solved a riddle to get into another dungeon filled with BBQ equipment, meat, drinks and relaxation picnic area. Members were happy while screaming away. Being a pro-BBQ cook, Sung Woon heats up the grill and starts cooking the meat. Woo Jin looks unsettled seeing Dae Hwi tries cooking the Spanish Gambas while Min Hyun starts boiling Kimchi stew. The members were about to clean up when Ji Sung returns home looking dejected after failing the driving exam. Ji Hoon and Jin Young cheered him up stating failure is nothing. They snapped a photograph at the secret dungeon while missing out Daniel. (they Photoshop him in it)
Kuan Lin is serious about improving his Korean language. When he sees how fluent GOT7's Jackson and vocalist Henry Lau are, he intends to work harder. Min Hyun and Sung Woon became his tutor mentoring his pronunciation, slangs and words in Korean.
Wanna One continues to sweep music charts and took home Rookie Artist awards in Asia Artist Awards and further on to Mnet Asia Music Awards 2017 at Japan.