The popularity doesn't end in America. Hallyu group, BTS is pretty much occupied for the rest of the year. As they continue to spread the K-pop wave across US and now they are heading towards UK.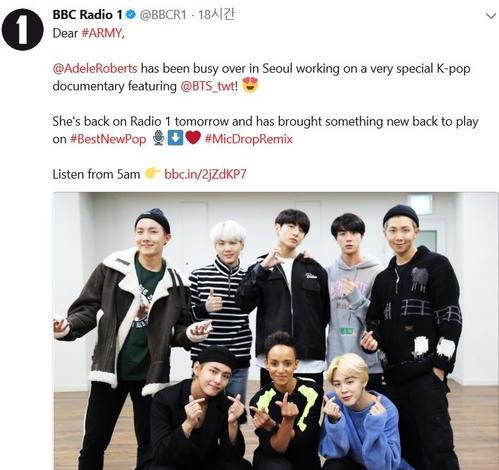 British Broadcasting Corporation (BBC) Radio 1 has announced on 26th November that they will produce a K-pop documentary on the BTS group via Twitter. On the Twitter message states 'Dear Army, DJ Adele Roberts is busy filming together with BTS boys for a special documentary program."

Specific details and dates have not been released. It is said that K-Pop is the main content of BTS. Meanwhile, BTS has performed solo performances for the first time as a K-pop group at the America's Music Awards 2017 (AMAs), which was held in Los Angeles, USA.
In addition to that, the boys have appeared in various talk shows in the US.