Episode 2 of Wanna One Go: Zero Base continues with the 11 boys rushing around their base camp happily upon seeing a big warehouse transformed to their freedom den and playground.
Each member has previously informed the PD what they want and wish if they have a room of their own. With the busy schedules for the one year or so, members hardly have time to themselves. If only...if only by having an hour personally to themselves make a big difference.
The members were previously busy with their come-back and filming for the MV- Beautiful.
11 rooms were decorated in its unique interior and styled to the preferences of the members.
Jae Hwan's typical musician room with instruments, Min Hyun's room was cosy with house keeping tools, Dae Hwi's room was like a honeymoon couple room decorated with flowers, curtains and lights, Seung Woo's cafe look-a-like room, Jin Young's room filled with colourful tub of plastic balls, Ji Sung's zoo-like Safari room, Sung Woon's super-star photo room, Kuan Lin's personal space with a fizzy drink machine, Woo Jin's rock-like room and Ji Hoon's room filled with soft toys and Daniel's room decorated with cats' concept. The main living room had sofa, pool table, toy guns, VR, TV, vending machine with noodles, snacks, drinks and arcade
machines.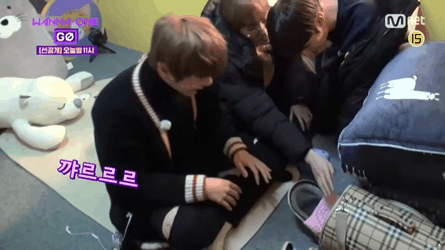 Daniel suddenly shouted in excitement that his two cats Rooney and Peter were transported all the way from Busan! They rushed to see the two kitties cuddled up in the cat house. Daniel clapped happily with Sung Woon and Ji Sung admiring his two pets. The rest discovered more excitement playing shoot-ambush games with toy guns. Forming two groups, they started their combat training around the living room. Seung Woo struggled with reloading his gun as Min Hyun smirked at him. Ji Hoon rushes around aiming at those who called him 'Piggy' as he tends to eat a fair bit. The members filled their hungry tummies with instant noodles, cheese, drinks and snacks. Dae Hwi pointed out the clock and rules stuck on the wall that they have 24 hours of freedom to do whatever they want. YES! Freedom for the members!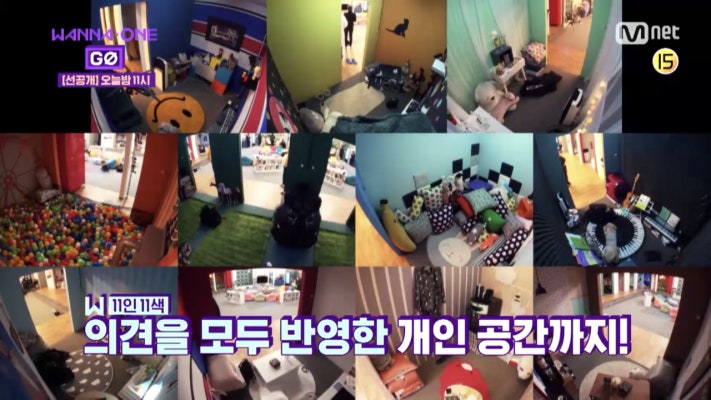 Woo Jin moves around eating endlessly at Yoon mama's noodles, Jin Young's cheese. Hwang butler is nagging at those who leave their things around messily. He is amazed with the robot vacuum cleaner with Daniel fascinated over it. Sung Woon orders pizza from outside while the rest waited patiently. Ji Sung grabs some face packs and rested. Kang cho-ding starts his quest by running around the living room with Ji Sung chasing him for his soft toy giraffe legs that were twisted like a samgyetang! Kuan Lin, Jae Hwan and Woo Jin were just observing the two MMO trainees running around like kindergarten kids. Seung Woo wanted to try out his coffee machine while Woo Jin helps him out in grinding the beans. It didn't taste nice at all for the first try! Ha ha!
Pizza came, the boys ate their dinner and drinks, started watching an American horror film. Sung Woon starts to doze off and headed back to his room. Jin Young crawled to share the bed at Min Hyun's room. U tell me how uncomfortable it will be to sleep on a tub of colourful plastic balls?! One by one decided to call it for the night. Seung Woo, Min Hyun, Woo Jin and Ji Sung were talking among themselves at the living room. Hwang-butler starts his cleaning house chores as there were popcorn all over the place- thanks to Kang cho-ding who threw it during the movie time. After a while, Seung Woo, Sung Woon and Min Hyun decided to prank the rest who were already fast asleep. They brought the speaker from Jae Hwan's room and started playing the song Produce 101 song- It's Me to individual rooms trying to wake them up. In fact it was a wake-up call song at their dorms in the early a.m. during Produce 101. Some were pissed off and Dae Hwi just shook his head. Night time calls and all decided to say goodnight.
Middle of the night, Jae Hwan woke up in abrupt with Ji Hoon coming asking why. He said something was moving and he discovered one of the cats snucked into his room for a snuggle. In groggy mode, Daniel went and grabbed Rooney back to his room. The next morning, the members woke up for breakfast. The chaos started again with everyone talking and mumbling around. Suddenly a familiar voice came out through the loudspeaker- 'Woo Jin ah, come and eat'....followed by other female voices. They were the voices from their mothers.
Looking daze, Daniel and Dae Hwi looked around wondering what's going on. Woo Jin opened up another secret room and their eyes grew big! And snippets of Jin Young heading to school and Daniel dressed up buying a bouquet of flowers for his mother.
See what they have discovered for in Episode 3.