Actress Sohn Ye Jin (35) and actor So Ji Sub (40) are in the new melostyle movie "Going to see you now" (director Lee Jang-hoon) have finished all the filming and entered the post-production period.
'Going to see you now' is a story about the wife, Soo Ah who left this world while leaving a promise to return on a rainy day. A year later, she then appears in front of her husband, Woo Jin and is suffering from amnesia.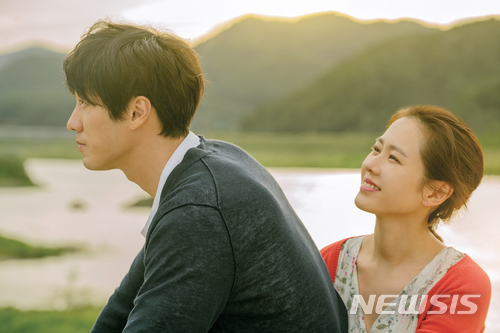 Photo courtesy from NEWSIS website
Sohn Ye Jin plays the role of the wife who is confused and loses her memories, Soo Ah. She then again loves her husband and son. So Ji Sub plays her husband, Woo Jin who lives alone with their elementary school son after his wife left.
Sohn said, "It has been a long time for me to feel such an exciting and touching feeling while filming. It is said that a good work will be born with the actors and staffs who have always been warmly welcomed in the scene."
So Ji Sub said, "All the actors and staff have done their best to make a very warm hearted movie. If you wait a little while, we will visit the audience."
Director Lee who directed the film said, "Every day is really precious and happy for me. I am grateful that I can meet good actors and staffs tocomplete the filming without any difficulty."
The movie 'Going to Meet You Now' is scheduled to be screened next year.