Hallyu group, Super Junior will be heading to home shopping channel!
Why? The reason is simple. The group members have promised that when their 8th album sales hit the record of 200K or more, they will appear in home shopping channel.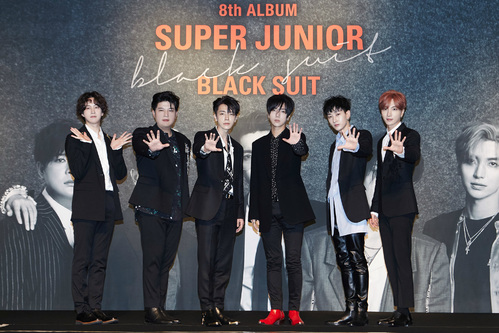 According to SJ's agency- SM Entertainment, the group will be selling the Black Padding suit on 20th November at 10.45 pm on a special program entitled 'Supermarket' via the cable channel- CJ O-Shopping Channel.

Super Junior will be responsible in selling the duck down padding clothing brand (씨이앤(Ce&)
For those who purchase the padding clothing, they will also receive SJ's 8th album as well.
That's a little bonus to go for home viewers shopping (it'd be great if it's signed by them!) But there is a catch, for some special lottery ticket- a personally signed CD will be given out as well to the buyers.
The event "Supermarket" is a combination with 'Super' from Super Junior and the 'Market' stands for sales. CJ O-Shopping has already planned this for the members appearance.
In the recent promotion and press conference for their 8th album 'Play', SJ has made a promise that if their sales go over 200,000 copies, they will go on a home shopping channel.
Indeed 'Play' album has then reached the top of the album sales chart and exceeded 200,000 on the day.
It is very rare to see a singer or celebrities appearing on a home shopping channel to fulfil. However earlier in the year, singer & songwriter Lucid Paul released his 7th album in a package composed of the results of his creative work and labour and sold the album through CJ Home Shopping as
a promise.
ELF fans in S.Korea- well done! You have did well to get SuJu to go on home shopping channel!
He he!