"Recently BTS and Wanna One and other juniors in the music industry, we thanked them for promoting K-pop worldwide."
The leader of Hallyu boy band- EXO, leader Suho has mentioned during their Exo Planet # 4 concert at Gocheok Sky Dome that their biggest influence would be their seniors such as TVXQ, Girls Generation, PSY, BoA and Super Junior. These seniors are their role models that they are able to come to this place to perform.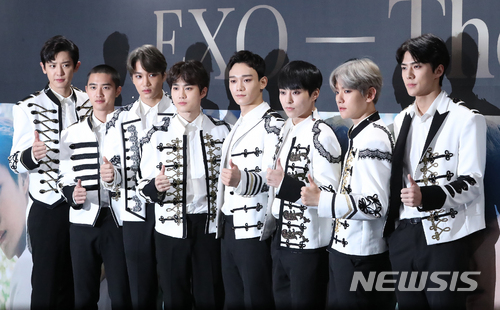 As everyone knows recently BTS and Wanna One were the two popular trendy groups that have captured the nation and international fans as well. Currently there are many juniors and boy bands emerging in the same industry. This year will mark EXO's 5th year in the entertainment industry. In 'Guinness World Records 2018', EXO has become the Guinness Book of World Records winner of MNET Asia Music Awards (MAMA). They are those who shine in 'Quadruple Million Sellers' of 4 million consecutive albums sold a total of 9 million albums so far. Also, the song "Power" released in September was adopted as the music of the Dubai fountain show in front of Burj Al-Khalifa.
Suho also said, "Like our seniors, our juniors are obliged to promote K-pop. I would like to contribute to informing the world about K-Pop with our juniors."
Members are also carrying out individual activities. D.O who is also actor with his real name Do Kyung Soo has received a rookie male idol from the Blue Dragon Film Awards ceremony on the previous day for the movie 'Brother' (2016). Suho will make his musical debut "The Last Kiss" which opens at LG Arts Centre on December 15th.
D.O said, "I am happy to be acknowledged as an actor and I want to share my empathy with alot of my experiences in the future."