Actress Lee Da Hae marks her return to drama land in the new drama Good Witch
착한마녀전
.
Lee plays the role of pair of twins-

Cha Sun Hee

and

Cha Do Hee

. The two girls lived a great family life until their father who is a cop was killed on duty and they have to live through poverty.
The pair of twin have complete split personalities. Sun Hee is hardworking, polite and helpful. Do Hee is the opposite and very ambitious. She moved out from the house and even became a stewardess at Donghae Airlines and a face model for the company. Being an elder sister Sun Hee works very hard to support her family and gave up her dream to become an air stewardess too. Sun Hee married the unemployed Bong Chun Dae (played by Bae Soo Bin) and has a smart little daughter, Han Seo.
Do Hee continues her streak of success in the airline company only to be haunted by some man and eventually broke down. She collapsed and had to be hospitalised. Sun Hee had no choice but to resume her twin's identity at work. She was a bit clumsy and kind towards everyone. Her attitude somehow didn't fit her arrogant usual character, so Sun Hee had to learn to tell people off. Since she has to fly around, she was hardly at home resulting her mother in law and husband being suspicious with her new behaviour.
Sun Hee encounters the first officer pilot Song Woo Jin (played by Ryu Shi Young). Woo Jin is against any female relationships and refused to get married. His parents are worried for his health being and attitude. Donghae Airlines started receiving bad remarks when the CEO's daughter Oh Tae Ri (played by Yoon Se Ah) started abusing workers on board. CEO Oh had no choice but to get his playboy son Oh Tae Yang (played by Ahn Woo Yeon) to restore the company's image. Sun Hee discovers that she has to sign a contract of 'share-house' with some stewardess, including Woo Jin and Tae Yang in the house. It was an exciting moment for Tae Yang since he is fond of Sun Hee. However it was hell breaks loose for Woo Jin who doesn't like living together with females esp. after a bad encounter with Sun Hee on board.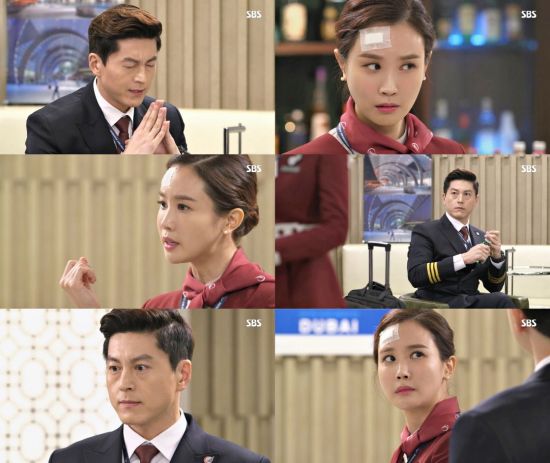 Good Witch reminded me of those days when Lee Da Hae played her character Yoo Rin in My Girl series. My Girl and Good Witch are under SBS production. They are both comical in every way. Sun Hee is sweet and innocent so nobody could hate her even when she makes silly mistakes. Do Hee was a perfectionist, cold and selfish in her own ways. What is intriguing is Do Hee's secret and will Sun Hee's family break apart when Woo Jin falls for her? I think she's better off with someone else than her good for nothing husband lazing at home.