Yook Sung Jae was the first to arrive at the spot with PD telling him to board the bus which is waiting in front of the filming location. He somehow didn't feel too right but saw Lee Sang Yun arriving too. He noticed that Sang Yun doesn't dress up anymore as he couldn't care less on his appearance after episode 2. Next thing they knew someone humming is none other than Yang Se Hyung followed by Lee Seung Gi. PD tells them their new Master is a hero in the recent 2018 PyeongChang Olympics. Given their Master's dairy written when he was 10 years old, Sang Yun started to analyse that it's a man, in early twenties and very matured thinking.
What they didn't expect is the daily schedule of their Master shocked them seeing 3/4 of his routine is high intensity training! They can never forget what they went through with baseball player Lee Dae Ho at the hard core gym training! The bus arrives at the stop where their master is dressed in black track suit showing off two medals- gold and silver he won at the winter Olympics. Their eyes grew big when he turned around - he's the speed skater Lee Seung Hun became the national hero for winning two medals. Everyone was in awe inspecting the medals. Now back to work, Se Hyung pointed out his daily schedule is too much for them. Lee decided to tone down various segments since it's off season for training. High intensity becomes low intensity with Sung Jae suggesting there should be NO intensity training.
The four butlers started talking to Lee on his dream when he was 10 years old, how he went through the hard training at Taerung Training Centre and winning the medals up to today.
Lee suggested to have snack time at night since he craves for it. They clapped with joy.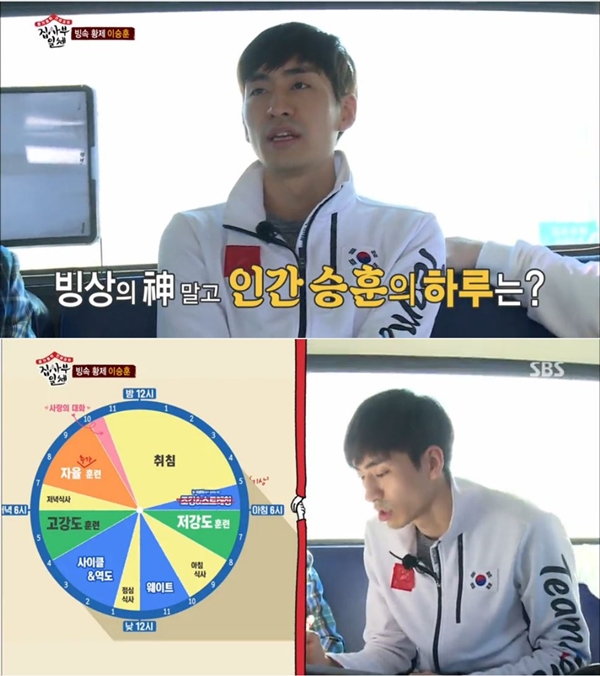 The bus arrived at Taerung Training Centre where butlers were happily snapping photos within the campus ground and admired the main banner stating- "I am a Korean, representing the country". This gives a full sense of duty for all athletes training all these years to work harder.
As they were shown around the dormitory where they will be spending a night with their master. They passed the hallway of athletes rooms and Lee brought them to his own room. Se Hyung joked if Taerung is some Prison Break as scenery outside the dorm is just pure nature and wild animals. Lee admitted some athletes tried to escape because training was too difficult to endure and they wanted to give up. Four butlers changed to track suits and headed to the cafeteria to fill their grumbling tummies. They were amazed with the amount and variety of delicious food served for the athletes and staffs. From Korean food to Western, Chinese and Japanese- it was like a buffet heaven for the butlers. As they started filing their plates, Sung Jae noted Lee's plate was half the amount of what they have taken. Lee admitted at first, it was hard to resist the food but soon they got used to it as they have to burn up the amount they have eaten. Uh-oh! As speed skaters, they have to maintain their weight. Sang Yun went for second serving while the rest were surprised with the amount he has taken. Lee said the amount Sang Yun is eating are meant for heavy weight lifters!
After dinner, it is light training where they go to Wolgye Hall (gym) to jog around. They saw the rope climb and Lee shook his head saying where skaters do not use it. Phew! But their warm up is starting to get vigorous after few crouching and jumps. Lee demonstrated basic warm up where he was light as a feather. Now we know why one shouldn't eat so much because it's too difficult to jump and run with full stomach! Seung Gi and Sang Yun struggled with one leg jump however Sung Jae did well in the corner belt training. Corner belt training is done with one person dragging another person's weight on one side - that's the rhythm they have to do when they corner skate at a fast speed with body weight on another side. Somehow the tug and pull belt training between Se Hyung and Sung Jae became a joke where Seung Gi lamented the two looked like idiots! That gave Master Lee a good laugh. With the basic warm ups were even torturous for the butlers.
It was 8 p.m, so Lee brought them to the skating rink.It was so big that they were amazed with the size. While preparing their gear, they admired Lee's skates which he used in the Olympics. It is custom made and the blades make a clicking sound on ice. Lee decided to warm up first and goes for a round the rink. The butlers just admired the posture, speed and gust of wind when he passes them. Average male skaters speed at 60 km p/h- it's like driving a car! Sung Jae praised that Lee looks like a dove flying on ice while Sang Yun cracked up. Master Lee decided to test them for a one round. The strong determination in everyone's' eyes scared Se Hyung. On the mark...go! Se Hyung and Seung Gi started off strongly. Somehow Sang Yun was out of the picture...he was staggering along with Master following him behind. Commentator saw Sung Jae slowly picked up the rhythm where he just passed Seung Gi and Se Hyung in a blink of an eye. Seung Gi is determined not to lose. Se Hyung struggled behind while Sang Yun is purely learning skating with Master behind.
Sung Jae smiled happily as he reaching the finishing line while Seung Gi blew his chance when he tumbled over with Se Hyung also falling over. Hah! While this is not the end of it...
Second episode will feature Master Lee training the butlers harder to skate better with determination not to lose.