Leader Yoon Ji Sung has said, "Even though it's been only 8 months since we debuted in the industry, but there are still a lot for us to show to the audience. We have released an album and do our best we can."

The project boy group Wanna One has been formed via mNet's Produce 101: Season 2 and has released a new album entitled '0 + 1 = 1' at 6 pm on the 19th March.
At the press conference held at the hotel in Sangam-dong, 11 members of the group said, "The Golden Age is starting. Member Lee Dae Hwi said, "Last year I stood boldly on stage, now I wanted to show how I've matured musically and outwardly this year."
This album titled I PROMISE YOU, is a promise that Wanna One will make this year a golden age. The theme tracks for the electro trap genre- "Boomerang," as well as a special theme track, "Promise Me" (I.P.U.), including seven songs are featured in the album.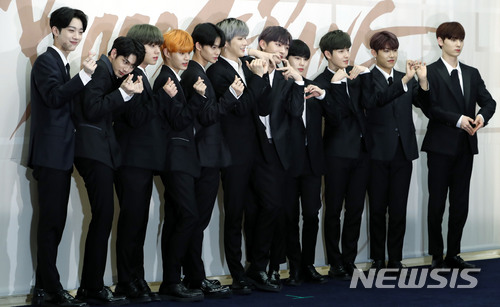 In less than a year after their debut, Wanna One has been showing monstrous power of a rookie boy band. Their debut album, '1X1 = 1' and repackage '1-1 = 0', sold more than 1.4 million copies and swept new awards at various music awards. This album has an order of 700,000 copies. Thanks to their huge popularity, they are gradually getting rid of it. Ong Seung Woo said before his debut, he doesn't know how to express his charms and feelings but now he knows fan services. Main vocalist Kim Jae Hwan wanted to sing songs coolly from the time he was a trainee. He is now delighted to be able to perform great songs and stage with the rest of the members.
Wanna One members are from various agencies. By the end of the year, they would go on separate ways but high probability the max of extended period of two years. As a result, fans were voicing out that the members should extended their activities. Dae Hwi mentioned at this time is the most important. Boomerang is the new title song and he's working harder to perform at his best. He doesn't want to think of the end as yet.
With a strong base consisting of female fans, Wanna One seems to be reciprocating back the love given to them via this album. The title song 'Boomerang' reminds us of the main scene that actor Kwon Sang Woo threw a boomerang in the drama 'Stairway to Heaven' (2003) and said the famous phrase- love will return.
Kang Daniel promised his fans that he will put all his love for them.
Wanna One will participate in UNESCO's Girls Education Campaign 'Wanna One X Girls Education' during this period and will donate a total of KRW$ 100 million won.