With two men fighting over one woman it's quite intense... PD Lee Kang admitted he liked Song Geu Rim at the hospital. As he jokingly he mentioned he also liked his DJ. Suho looks a bit pissed off and walked off. Later on, Suho flung off the blanket given by Lee Kang and passed Geu Rim the pink pillow which Jason got for him. Suho consoled his little fan girl, Eun Jung at the hospital.The two were bickering about their first love.
CEO Nam continued to pressure Suho to star in new dramas which he said No. His good for nothing father kept pestering CEO Nam to get a role for his lover, Da Seul. At last she couldn't tolerate any longer but to throw a fit at him in the elevator. Suho just ignored his father been bashed by CEO Nam. It is not an unusual sight for him. He tells his father to stop the nonsense after what CEO Nam has gone through.
The radio program was aired at the hospital conference room with visitors from the wards and guests. Eun Jung spoke about her first love- who happens to be her father! Her father is a delivery man busy working to pay her hospital bills that he hasn't got time to visit her at all.
When she asked Suho how much she envied his family background, he just looked blank and admitted he can't remember when was the last time he had a proper conversation with his parents. Geu Rim starts to feel for Suho since he didn't look happy when the topic of family arises. Suho joins the radio team for dinner, drinks and even played silly games. He got drunk easily and starts mumbling to Geu Rim not to pour drinks to other men.
CEO Nam asked Jason to report Suho's activities to her. Jason was somehow given the scholarship to medical school by JH Entertainment. Jason has a gut feeling that CEO Nam is cruel to extent where she will take everything away from Suho including his friends and he's getting tired over this nonsense.
Next morning Suho finds himself crawling out of Lee Kang's room. He looked pissed off and wanted to buy the building but only to realise it is owned by Kang! Suho further complains to Jason that Geu Rim doesn't answer his calls and quickly heads off to pick up her mother from the hospital. It turns out Lee Kang came to also pick up the mother. Geu Rim's mother sat in Suho's car telling him that he has a warm heart after hearing him on the radio program.

Tae Ri's radio show was a flop after she started cursing and shouting at the listeners who commented on her ugly behaviour. Even the manager and driver hissed behind her back stating she will never achieve anything. CEO Nam, her hubby and Da Seul were having dinner at a lavish place. Suho decided to take Geu Rim out for a nice dinner only for her to see the ugly part of his family secrets. The disappointed look on Suho's face makes her feel guilty and pitiful towards him. She embraced him and understood what he was going through without him saying anything. Suho asked why she likes hugging him since they were young. She blamed on her naughty hands. CEO Nam informs the radio station that JH Ent. are withdrawing all the stars unless they release Suho from the daily radio program. She added that Suho will be busy filming new drama overseas. The top management panicked and summoned Lee Kang and Geu Rim on confirming with their DJ's status. Kang reassured that Suho isn't irresponsible and obviously he has not said anything about it.
Suho has no idea about CEO Nam's tricks. He insisted to carry on with the radio program. He even gives a new car for Geu Rim to drive to work. She was too pre-occupied with work that she didn't have time to see the presents he bought for her. Awww.... He was annoyed and lamented if she is so busy, at least she should appreciate and see what he has done for her.
Geu Rim re-wrote the script with Kang reviewing it. The words clearly rang in their heads- when you hug someone, you want to embrace their sadness...etc. A fan called in for her birthday and requested Suho to say "I Love You" to her. He was in doubts but he managed to stumble out the words when he looked at Geu Rim.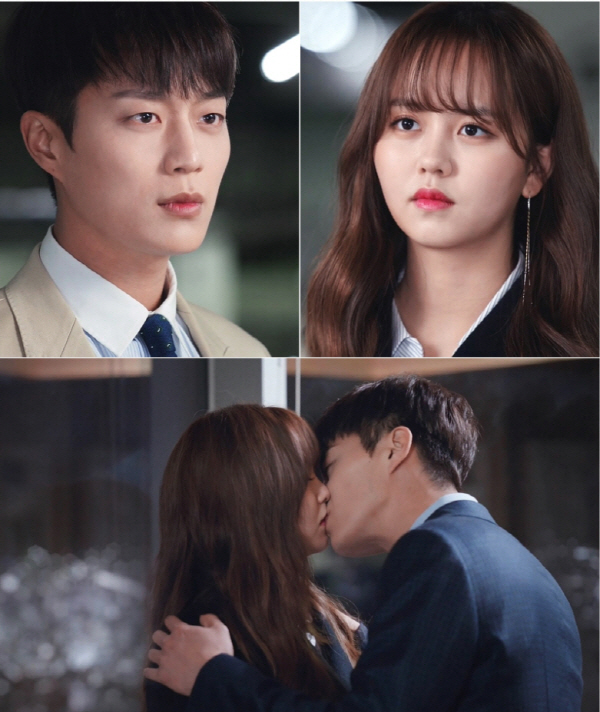 Geu Rim decided to go on a date with Suho after the program. However it was called off because Kang called for work overtime. Suho's face falls knowing she will give her excuses again...instead she suggested to go on a date the following evening. His face lightens up happily. CEO Nam warns Suho to take up the drama by showing him photos taken when he kissed Geu Rim at the school field. Someone must be spying on them so she needs to control the media. Suho is very reluctant to do however for the sake of Geu Rim. Kang misunderstood that he is stabbing them at the back to take up new drama instead of the radio program.
Tae Ri is devastated that she won't be in any dramas with Suho. Her reputation and fame has hit rock bottom. She started crying and asking Manager Kim for help. She merely wanted the recording of Suho stating CEO Nam is not his biological mother. Geu Rim panics upon reading online of Suho taking up new dramas as he attended the press conference. She send many text messages to him but he didn't reply any. She starts wondering if Suho will leave their program for good. At night, Geu Rim's heart is wavering whether to trust his words. Suho came and hugged her asking to believe him. With that, he pops a kiss on her.