A different style of drama has emerged- hospital without doctors....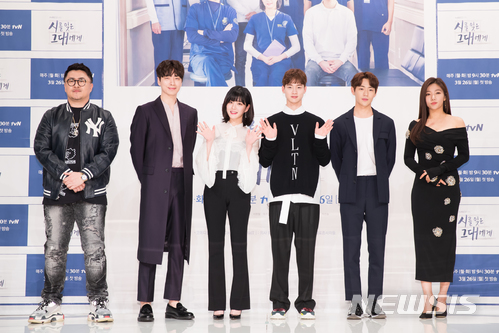 On the afternoon of 20th March, tvN has launched its latest drama entitled "A Poem a Day" which had its press conference and presentation at Times Square in Yeongdeungpo-gu, Seoul.
At one stage, a lady Woo Bo Young dreamt being a poet who then becomes a physical therapist with her surroundings of poetry. There are two interesting points in the drama.
First of all, it is a hospital drama where for the first time; the main characters are not medical doctors but a physiotherapist, a radiologist, an apprentice, and a 'C
omedical staff' (a medical worker providing medical services outside the medical practice).
Main leads Woo Bo Young played by Lee Yu Bi, Ye Je Wook played by Lee Jun Hyuk, Lee Chae Young, Kim Jae Bum, Jang Dong Yun and Park Sun Ho are among the casts.
PD Han Sang Jae has mentioned this drama doesn't revolve doctors. It is slightly different.
It is not necessary to always have a doctor in a medical drama. So he made this drama focusing at the daily lives of the physical therapists who are responsible for the health of the patients. Physical therapy and radiotherapy information and patient's emotional state are the main points. The nurse is not the main character but has the skeleton of the hospital drama. In fact, when PD Han met directly those chem medical staff, they have longer time to respond to the patient than the doctors. Patients do not even know the doctor and there are many complaints. This drama is scheduled for a total of 16 episodes.
Lee Yu Bi decided to take the challenge because she is interested in poetry. It is a light hearted comedy too. When she started reading the scripts, she expressed her gratitude that she will do her best in the main lead.
It will be aired after the series "Cross" finishes on 26th March at 9.30 p.m.