Global Hallyu group BTS has rewritten K-pop history. They are the first Korean singers in the Billboard 200 in the USA. Billboard has reported on the 27th May (Sunday) on its homepage that BTS has won the first place in Billboard 200 with their 3rd album "Love Yourself; Tear."
The album Love Yourself; Tear was released on 18th May 2018 has already sold 135,000 copies in the US by the 24th May. Of these sales- 100,000 copies were offline album sales. Billboards wrote 'traditional album sales'.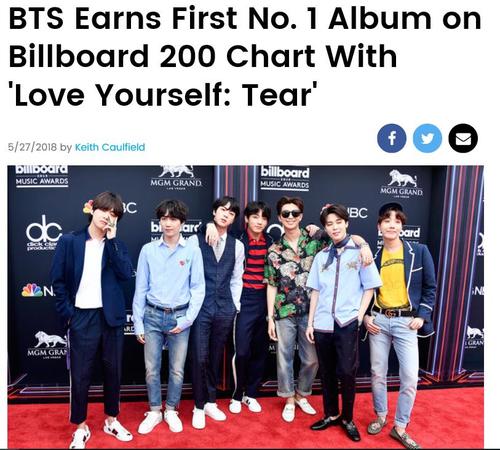 Billboard 200 often ranks popular albums in the United States based on track volume albums (TEA) and streaming equivalent albums (SEA). As a result, BTS has renewed their 7th place, which is the highest score of any South Korean singers that have established on this chart with the previous album 'Love Yourself; Her.'
According to Billboard, the album was released in Billboard 200 in various languages ​​other than English has been in the charts for 12 years. In 2006, the UK poppera group 'Il Divo' won first place on the charts with the album 'An-Cora', which featured songs in Spanish, Italian, French and some English tracks.
Love Yourself; Tear album sales has exceeded 30,000 more than the US and other industries. Originally Billboard had expected 100,000 copies. However, the expectation that this album suddenly emerged on the top spot.
Member Suga (25) said in a press release yesterday, "We heard that you were expecting the first place, but I did not feel it. I can not help but seeing the result. I looked again. Of course we would like to be No.1, but we do not want to be too close to the top."