"Young people are in a state of helplessness with anger in their minds. I think it's something which is not fair, but the problem is that they do not know the cause of their anger."
PD Lee Chang-dong (64) said at a press conference held at the Palais de Festivals, the headquarters of the Cannes Film Festival in France onThursday 17th May.
Together with actor Yoo Ah In (32), rookie actress Jeon Jong Seo (24) and Hollywood Korean actor Steven Yuen were present.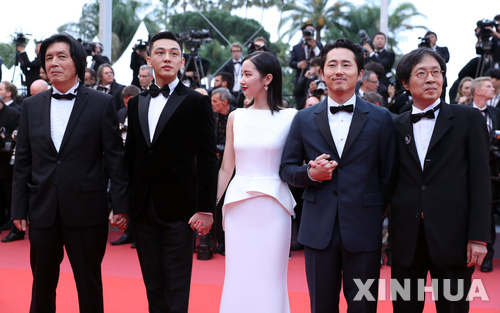 The director said, "In the past, the objects and reasons for anger were very precise and clear. It is young people feeling that the world is getting better now and that it is in the age of no future."
'Burning' is a new film released by the director in eight years after the film 'P
oem'. Burning is a story about part time worker Jong Soo (played by Yoo Ah In) met his childhood friend Hye Mi (played by Jeon) as they grew up in the same neighbourhood. Jong Soo is then introduced to a mysterious man named Ben (played by Steven Yuen).
Japanese writer Murakami Haruki (69) was the original writer for the 1983 short story "Burning A Barn". "The NHK proposal was the first start of" Burning".
"At first I gave the chance to direct a young director and I tried to take production, but on various occasions it did not happen. I thought I could expand the mysteries of the original film into other mysteries in movies."
Yoo Ah In has absolute faith in PD Lee for the work. Steven felt it was an honour to work together with PD Lee. Jeon Jong Seo is grateful to receive the role for Hye Mi after audition because this is her first ever big film.
'Burning' is the only Korean film to be invited to the Cannes Film Festival competition this year. Since its debut on the 16th at the Cannes Lumiere Grand Theater in World Premiere, it has received favourable reviews from all over the world.
The US New York Times (NYT) mentioned 'Burning' as one of the 10 films to watch at Cannes Film Festival in 2018', and American movie variety was sold in eight countries before 'Burning' .