The well made drama Secret Forest and uprising movie 1987: When the Day Comes were the biggest stars in the recent 54th Baeksang Awards.
The drama and movie won the Dae-Sang (Grand Prize) awards. It was held on 3rd May 2018 at COEX Convention & Exhibition Center in Seoul whereby hosted by emcees Shin Dong Yub, Bae Suzy and Park Bo Gum.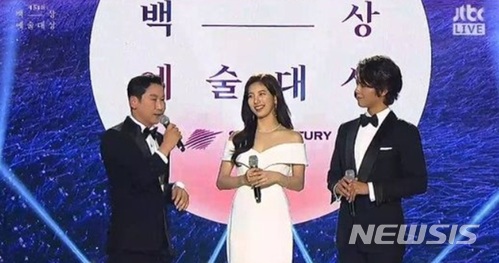 Courtesy from NEWSIS website
Secret Forest and 1987: When the Day Comes were the unique drama and movie which took home the grand prize specifically for each division. PD Lee Chan Ho of Secret Forest drama specially thanked actress
Bae Doo Na
for discovering this work and actor
Cho Seung Woo
who helped the casts.
The film producer Lee Woo Jung thanked the audience and public for their love and support towards 1987 movie including the current president Moon Jae In. He further added thanks to the enthusiasm that fought for the democracy of this land.

Here are the list of winners 2018:

Dae-Sang Movie: 1987: When the Day comes
Best Movie- The Fortress
Best Director: PD Kim Yong Hwa (Along with the Gods)
Best Movie Actor: Kim Yun Suk (1987)
Best Movie Actress: Na Moon Hee (I Can Speak)
-------------------------------xxx----------------------------------------------
Best Drama: Mother (tVN)
Dae-Sang Drama: Secret Forest (tVN)
Best Ent. Program: Hyori's Bed and Breakfast
Best Drama Actor: Cho Seung Woo (Secret Forest)
Best Drama Actress: Kim Nam Joo (Misty)
Popular Actor Award: Jung Hae In (Prison Playbook)
Popular Actress Award: Bae Suzy (While You were Sleeping)
Congratulations on all the winners.