A lawyer who is fiercely focusing on the law, fighting against absolute power and growing up as a real lawyer, is on his way on the 12th May 2018.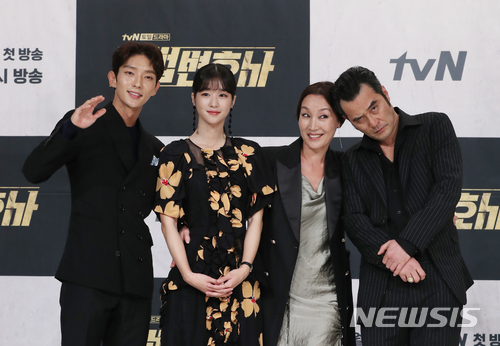 Photo courtesy from NEWSIS Website
tvN is introducing its new weekend drama
"Lawless Lawyer
" whereby
PD Kim Jin Min
(46) and actor
Lee Jun Ki
(36) met after 11 years at Amoris Hall on 5th floor of Yeongdeungpo Times Square.
Director Kim said, "It is a drama about revenge, but it is also a drama that solves the story of people's relationship. The new drama is unravelling the core of the heart.". Lee Jun Ki has worked together with PD Kim since the MBC 2007 drama Time of Dog and Wolf.
When Lee received the phone call from his manager stating PD Kim Jin Min is in charge of the drama, I am confident he will create more synergy to it.
Actress Seo Ye Ji (27) who is the main lead mentioned her role is rather different and she is therefore looking forward to it. Fellow veteran actor Choi Min Soo (56) is also part of the casts.
Another veteran actress Lee Hye Young (55) is playing the villain- Cha Mun Suk in the drama who is selfish. It's another challenge as she previously played an ill-person in the drama Mother with Lee Bo Young.
Lawless Lawyer is a lawyer who uses his fists instead of exercising the law to grow up to be a true lawyer fighting against all.
The drama is scheduled to air at 9:00 pm every Saturday and Sunday from 12th May.