Actor Nam Goong Min (40) and actress Hwang Jung Eum (33) are reunited once again in a new SBS drama entitled Handsome Guy and Jung Eum.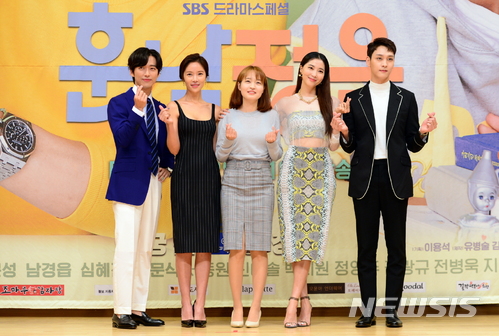 Picture courtesy from NEWSIS website.

They last collaborated in the 2011 MBC drama Can You Hear My Heart and it has been almost seven years. It was a good thing they met up again and press conference went well too.
Actress Hwang was in overseas when she received the script. She was quite excited that Nam Goong Min is part of the cast.
Handsome Guy and Jung Eum is romantic comedy drama where the man refuses to start in any relationship while the woman is eager to tie the knot! Hwang Jung Eum plays a the solo female lead Yoo Jung Eum. Nam is the relationship expert Kang Hoon Nam. His name is literally translated as Handsome Guy.
Oh Yoon Ah plays Coach Yang of the national diving team while Choi Tae Joon plays a clinic doctor Choi Jun Su.