Actor Jung Hae In (30) is pretty happy these days. He dreamt being an actor and it has come true. He has received favourable feed backs from the public regarding his recent romantic drama- Something In the Rain.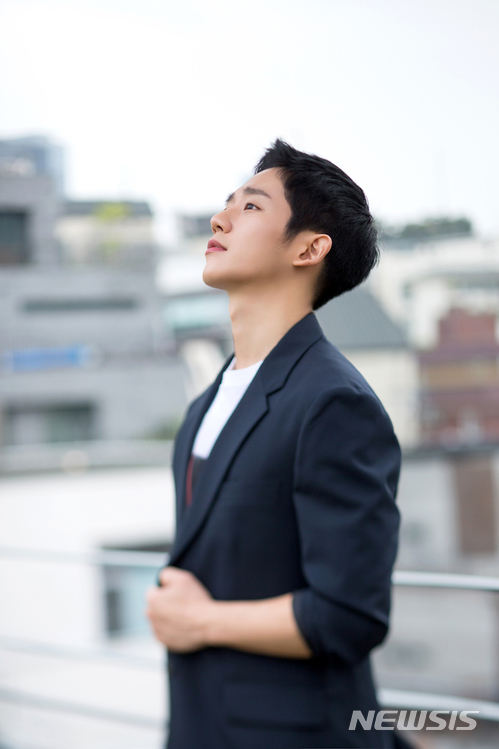 Photo courtesy from NEWSIS.
He has earned the nickname as the 'Nation's Boyfriend' from the drama. So how does it feel for the actor himself?
'I didn't realise the word syndrome at all. It was amazing to see that our drama was well received by the viewers and everyone liked it. We thanked everyone for their support and love."
Jung started his debut drama in 2014's TV Chosun's drama Bride of a Century as Lee Hong Ki's younger brother. He has been acting for past 4 years. His recent character Seo Jun Hee, a working professional who falls for his best friend's elder sister, Yoon Jin Ah played by Sohn Ye Jin has somehow gained so much attention from the viewers.
Just a few months ago, he played as Ha Myeon- a righteous man happens to be Ji Eun Tak (Kim Go Eun) 's first love in the hit drama Goblin: A Lonely Guardian. Then he played the dashing police officer in While You were Sleeping who has a crush on Hong Joo (Bae Suzy).
He has definitely earned the title of nation's boyfriend.

Ever since then, Jung has been leading a happy life with his dramas and works. However he didn't feel much different from the past.
He was pretty satisfied ever since he debuted in the entertainment world and he will continue to do so.
And for those who remembered when he also starred in the tVN's 2014 drama Three Musketeers as one of a skilled swordsman aiding the Crown Prince. He played a rather serious yet charming role Ahn Min Seo (Aramis) where even the servants and girls were intrigued with his looks.