Eleven decorated screens featuring BTS's
Ji Min
were advertised o
n New York Times Square, USA.
Ji Min's ads were shown on eleven screens of Nasdaq and Thomson Reuters in New York Times Square during the day on the 10th December 2017. The Chinese fandom was supporting the event at the end of the year.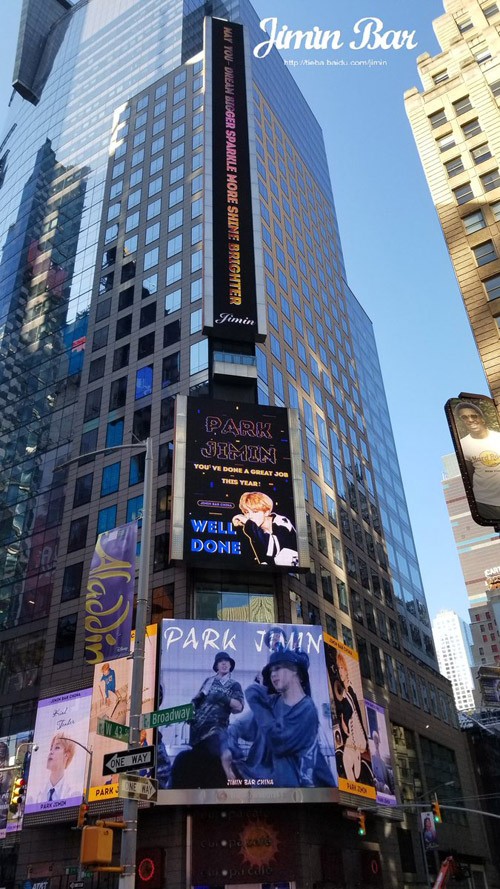 Times Square, also known as the "World's Crossroads" has an average daily population of about 1.5 million people on a tripod that meets New York's 42nd Street, 7th Street, and Broadway. Usually the advertising cost is very high whereby an advertisement could cost up to tens of millions won a day!
EXO, BTS, TWICE and Wanna One advertisements go live on the birthday or debut anniversary of K-POP group members. Few days ago, birthday wishes for Wanna One's Kang Daniel was flashing across the bright LED screens. Fandom has been promoting the advertisements in order to thank BTS member Park Ji Min who has showed his remarkable performances in 2017 at the same time as promoting in the USA during the music awards.
Meanwhile, BTS has held a concert for "BTS Live Trilogy Episode 3 Wings Tour: The Final" concert at the Geocheok Sky Dome in Seoul from 8th to 10th of October and finished the trilogy episode series in the trilogy.