British chef, Gordon Ramsay (51) has somehow raised the viewers ratings by 2% when he appeared as a guest in the JTBC program Take Care of My Refrigerator.
According to Nielsen Korea, a 15% rating of the nation's average audience rating of 5.9% for JTBC's cooking entertainment program- "Take care of the refrigerator" (director Lee Chang-woo) was broadcast on the previous day. Compared with last week's broadcast, it is a 1.7% increase. Normally this program has maintained a low 4% audience ratings in the latter half of 3%.
It has attracted viewers attention with one of the world's best chef, Gordon Ramsay's appearance. Ramsay is popular worldwide in 2005, leading the audition program "Hell's Kitchen". Hell' s Kitchen has churned out 17 seasons this year. He has also been one of the most famous chefs in the world including Master Chef. Ramsay is renowned for his talent for cooking, ridiculous hustle and bustle, harsh swearing in the kitchen.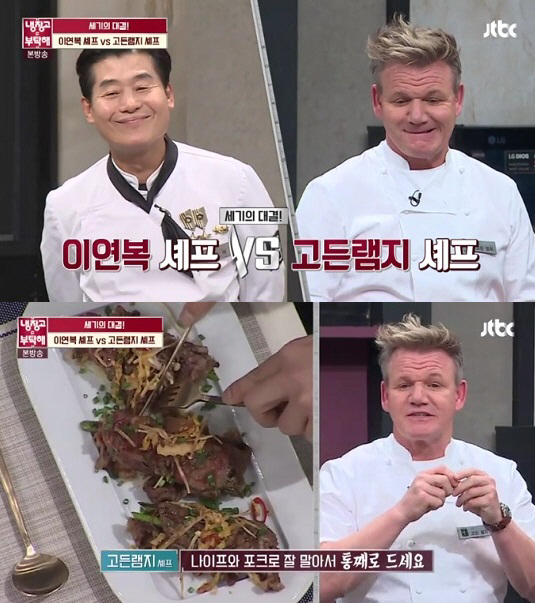 On this special episode Ramsay was given a challenge to cook a dish within 15 minutes where he's up against Chef Lee Yeon Bok. Both chefs were presented with a baseball pitchers' refrigerator containing many types of side dishes, main proteins- fish, prawns and beef.
The competition started off with both chefs looking relaxed and chopping their ingredients.
Ramsay's dish is crispy rice topped with beef strips, mushrooms, cabbage and asparagus.
Chef Lee had two dishes in mind- stir fry spicy beef with asparagus and steamed beef with cabbage that goes with avocado sauce.
The cooking show started to get intense when Ramsay couldn't figure out the sauces on the table top, his crispy rice fell off from the pan he lifted and the beef strips were stuck onto the paper.
He told them do not panic if anything fails in the kitchen...he was sweating though. Hah!
Everyone else were busy snapping photographs and taking videos of the world renowned chef in action.
MC Kim Seung Joo tried to pick the remaining bits of crispy rice but was pecked by a fork from Ramsay. His 2nd attempt failed too. He was hounding around Ramsay like a shadow saying 'busy...yes...very busy...' All went in awe seeing Ramsay sprinkled some salt as he splashed some over his shoulder before going into the pan. Mmm... a new way of sprinkling salt?
Chef Lee finished plating up his two dishes and presented it well. It was the last few seconds and Ramsay finished up his rolled beef strips on top of crispy rice. He started chopping spring onions for top decoration on his dish. Out of nowhere, Ramsay splashed remaining shallots onto Seung Joo at the side creating massive laughter at the studio. Muahaha! He did mention Seung Joo was like a little girl screaming at his side when he was working.
The baseball players tried both chefs' meals and complimented they were very tasty, flavourful with the taste of Korea. It's interesting that Ramsay uses the red pepper flakes and bulgogi sauce for a fusion style beef wrap. Ramsay likes Chef Lee's stir fry beef though it's spicy.
Winner goes to Ramsay and he thanked everyone for being there, it was an honour for him to appear at the show. He invited everyone to his restaurant in England for another challenge.
He vows to defend his title. Hah!