"The strong tenacious attitude is exactly like me."
Actor Jung Woo-sung (44) said, "I do not feel tired until the result comes out, but it seems to be the style that I've done my best," he said while pointing at PD Yang Woo-suk who directed the film "Steel Rain".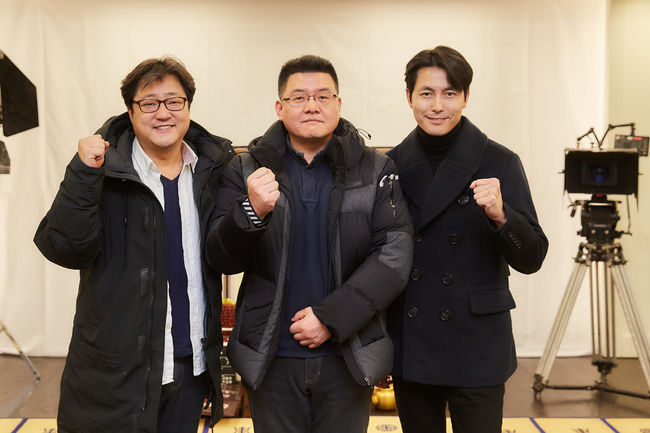 In this film, Jung Woo Sung collaborates with Kwak Do Won. Most directors are nervous until the final film is been released. Director Yang Woo-suk has never been that way.They have done their best to complete the movie and now it is time to put the movie out to the audience. Results will be unknown until it's been released.
Jung's role as Uhm Chul Woo was once an elite agent of the North's reconnaissance bureaucracy. In order to get out of poverty, he takes on a secret mission, gets caught up in an unidentified incident and takes on a wounded "North Korean Power 1".
Uhm Chul Woo's character is similar to Jung. He does his best in his perfectly for my family, he leads his sick body, doesn't express pain and tries hard to prevent war. Jung who had not been able to draw a good reputation for acting in recent series of works, succeeded in receiving favourable comments from this character. The most impressive thing in this film are the scenes of two people. Jung's Uhm Chul Woo and Kwak's Kwak Chul Woo are not coincidental but they have a brotherly relationship with the same goal in mind. Kwak Chul Woo has a lot of bluntness, emptiness and loose but extraordinary responsible- making this movie called "Buddy movie". Actually, both actors are born in 1973. Jung Woo-sung did the second film with Kwak Do-won after 'Asura' (2016), expressed his love for his friends with jokes.
In a scene when both are resting, Kwak Chul Woo said to Uhm Chul Woo- "We are the same side. We are wearing handcuffs in one hand."
Steel Rain can be a controversial piece depending on how you view it. It is based on the extreme confrontation between the North and South, and it deals directly with the nuclear war. Jung said, "I would like to see it as a funny imagination, itt's funny that it's a fantasy story."