I finally had the opportunity to watch and do some review on the movie "

Along With Gods -
신과 함께
"
starring
Cha Tae Hyun, Ha Jung Woo, Joo Ji Hoon, Kim Hyang Gi, Kim Dong Wook, Lee Jun Hyuk, Do Kyung Soo
and
Lee Jung Jae
.
The story opens with a brave and hardworking fireman Kim Ja Hong (played by Cha Tae Hyun) died while saving a little girl from a burning building. He didn't realise he was dead until he was summoned by grim reaper Kang Rim (played by Ha Jung Woo), Haewon Mak (played by Jo Ji Hoon) and Deok Choon (played by Kim Hyang Gi). The three guardians have advised Ja Hong that he's a paragon and he would benefit from escaping the 7 Hells of trials in order to be reincarnated. Ja Hong was shocked and can't bear to leave behind his old ailing mother.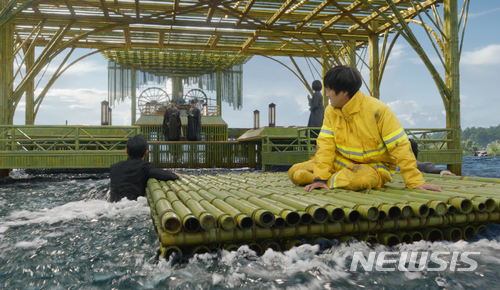 Indeed it was a series of roller coaster events where the three guardians brought him to meet God Of Murder Hell, Goddess of Indolence Hell, God of Violence Hell, King Taesan, Goddess of Betrayal Hell and Yeomra, King of Underworld. They tried their best to defend Ja Hong against 2 unruly prosecutors who wanted to punish him. Each time a trial goes, Ja Hong finds himself brimming in tears after looking at the mirror of his past- what he has done as a fireman, his daily lifestyle and surviving through poverty. However a series of misfortune starts happening as Haewon Mak pointed out there must be a family member who is dead but the spirit is still vengeful. Ja Hong thought was his mother but Kang Rim discovered the Angel of Death is his younger brother, Su Hong (played by Kim Dong Wook) who died in an unfortunate accident in the military camp. Su Hong started to revenge on Private Dong Yeon (Do Kyung Soo) and First Lt. Park (Lee Jun Hyuk) for accidentally shooting him while on duty, covering his death, burying him alive in the ground and faking the news that he deserted his duties.
It was difficult to defend Ja Hong in the underworld trials when Su Hong's evil spirit is filled with vengeance causing disruption even up to Yeomra's world. Kang Rim fought few battles with Su Hong and told him to stop otherwise his brother's spirit will not reincarnate. Su Hong despised Ja Hong for leaving the family when he was young and there was mysterious past about them.
They were so poor that Ja Hong had the intentions of killing his mother and committing suicide to end all suffering. Su Hong forgave Dong Yeon over the accidental death as the poor lad was literally a walking zombie of guilt and tried to hang himself. But Su Hong got mad after seeing First Lt. Park bullied their mute mother and pushed her away. His mother was desperate to see where Su Hong's body was buried but Lt. Park denied all. Kang Rim and Haewon Mak have to intervene with the Angel of Death rage and vengeance. Deok Choon pleaded with Yeomra to forgive what Ja Hong has done when he was young. The two guardians managed to do some magic whereby Su Hong was dressed in a Prosecutor robe and sat in front of his ailing mother.
His mother woke up and was thrilled to see her youngest son alive (but actual fact he's dead), he cried saying he has to go somewhere far to work. Ja Hong missed his mother so much and cried too.
Yeomra forgave what Ja Hong has done and concluded that his spirit will be reincarnated.
He will not be punished for anything. The three guardians were pleased with the results. Deok Choon bade farewell to Ja Hong as he finds his spirit slowly disappears into gold dust and left the underworld. Kang Rim dressed as a delivery man sends a parcel containing the latest rice cooker for Ja Hong's mother with a letter from her elder son. Kang Rim, Haewon Mak and Deok Choon were left to defend Su Hong in afterlife.... this time a bigger battle awaits them.
As my thoughts- Cha Tae Hyun looks cute in his yellow fireman suit throughout the movie, the two guardians are dressed like in Matrix...ha ha! The stunning cameo appearances from many famous actors and actresses do amaze me. In fact the last scene has Kim Min Jong and Ma Dong Suk appearing cracks me up as one is a Grim Reaper and another is House of Gods. Quite pleasing to see Jo Ji Hoon in a very sarcastic and comical character.