Continuing from where Ji Suho has stopped Song Geu Rim from sitting in PD Lee Kang's car, the tense glaring between two men started. She was rather annoyed with two men having arguments so she left them to further their conversation at Suho's house. After a series of drinks, two were tipsy and talked gibberish too. The next morning, Suho woke up having headaches and CEO Nam walked in surprised to see him having drinks the night before. He continued his radio program and was rather taken back when a caller's father cursed angrily at him and listeners were even more surprised since Suho didn't expect it to be broadcast live. He told PD Lee to cut off the phone conversation as Geu Rim notified he's on air live! There were mixed comments on people sneering behind Suho's back that he doesn't know understand being a DJ and some supported him. Manager Kim warns PD Lee to stop embarrassing Suho.
Jin Tae Ri continues her plan to threaten CEO Nam with her husband's affair photos. She wants to be back in the limelight so she is trying all means to get to Suho. One day Suho has filming a CF with the model Jung Da Seul- who is his father's girlfriend. Surprisingly Tae Ri turns up insulting her and two women shouting while grabbing each other's hair. Suho just look disgusted and told CEO Nam to stop the nonsense. CEO Nam wants Suho to stop the radio program but he insisted to carry on. Geu Rim and Suho were stuck in heavy traffic at Gangwon-do province so they have to carry out their daily show at 6.00 pm in a school area with mobile broadcast truck. Geu Rim tells Suho there is a little boy Sang Goo who is grumpy and refuses to graduate from school because he is still waiting for his friend to return.

When Suho meets little Sang Goo, it reminded him a lot of him when he was young. Their style of talking, grumpiness and behaviour were alike. Sang Goo might not mean what he says and yet he's waiting for his friend's return. The same thing happened to Suho when he was young- his best friend Woo Ji Woo has not returned ever since- in fact died in a car accident.
Suho managed to have Sang Goo talk about his experience and school kids rendering a sad emotional song in the school. Listeners were amazed with the program and some shed a tear.
Geu Rim pointed out to Suho that he can do the closing of the program with his own words as they don't have a script. He ended the program with a saying 'Just because you're crying, it doesn't mean you are sad, just because you smile- it doesn't mean you are happy.'
Those words rang clearly on Geu Rim's mind- they were the words she told her first love at the hospital whole she did the blindness project.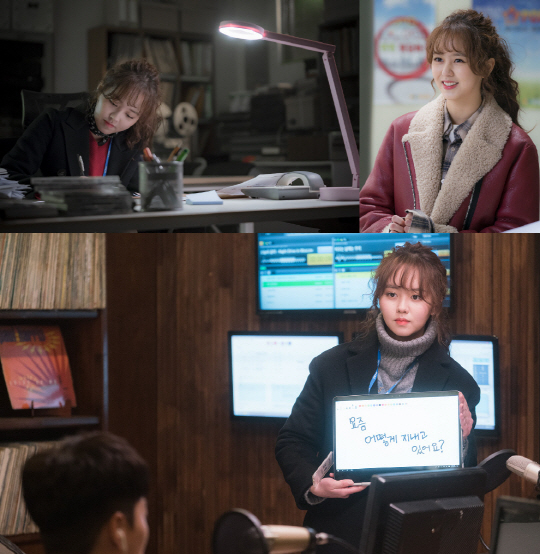 Sang Goo asked if Suho kept his school grad cert- he replied no where Geu Rim widened her eyes wondering what happened to it. In fact Suho's grad cert is in the glass case beside Woo Ji Woo's urn in the crematorium. The junior writers got PD Lee to read the board online for Suho's program- someone has been insulting and writing evil remarks on the actor. There were even cards send to the station with letters stating Suho is a murderer. What the...??
I wonder if this was the work of his doctor friend Jason...he does act suspicious...
Geu Rim was pleased that Suho read her script and followed her actions to have the radio program successfully broadcast even when they are not in Seoul. She felt her dream is coming true- making baby steps. She hugged Suho thanking him for making her career take off. He was quite stunned as he asked her if she does remember who he was. She looked blank.
He covered her eyes with his palm and gave her a kiss. The similar scene took place 12 years back when they were in the hospital as she was wearing a blindfold...